---
A Culture for a Shared Future: Pathways to Community Wealth Building
Creating a shared vision and shared prosperity for communities that have been left out of decision making process related to community change and empowerment takes sustained work. Deb Gunther of Mithun gathered professionals from a range of sectors to discuss ways in which those of us working in the field can create pathways to equity, wealth, governance and inclusion.
---
Enter Magazine, a Publication of the Minnesota AIA talks with Marc Norman on New Community-Wealth-Building Tools and Affordable Housing.  Read the entire article by click on the image below, or this link. 
---
Building Better Futures: Innovations in Equitable Development Profiled in Crain's Detroit Business Magazine
In an interview with Kirk Pinho, Marc Norman discusses the issues around equitable development and the topics and organizations represented in a day long conference bringing together a wide range of academics, practitioners and policy makers.
---
Marc Norman to serve on 2019 Rudy Bruner Award Jury
A multidisciplinary group of people who understand urban development, including the challenges cities face and strategies that make great urban places serve as a six-member Rudy Bruner Award selection committee. Jurors are experts in design and planning, development and financing, and community engagement.The 2019 Selection Committee includes:
Adrian Benepe senior vice president and director of National Programs at the Trust for Public Land, a national expert on the nexus of the public, private, and non-profit sectors in public space development.
Brenda M. Breaux, executive director for the New Orleans Redevelopment Authority, a leader in affordable housing, commercial revitalization, land stewardship, and green infrastructure development, and partner in the 2017 Silver Medalist Iberville Offsite Rehabs I & II.
Carol Coletta, president and CEO of the Memphis River Parks Partnership and senior fellow in the Kresge Foundation's American Cities Practice, where she leads a collaboration to Reimagine the Civic Commons in five cities.
Marc Norman, founder of the consulting firm Ideas and Action and associate professor of practice at University of Michigan Taubman School of Architecture and Urban Planning, specializing in community development and finance in the US and abroad.
Carol Ross-Barney, FAIA, founder of Ross Barney Architects, an award-winning designer in the vanguard of civic space design. Her work includes the Chicago Riverwalk, a 2017 RBA Silver Medalist.
Libby Schaaf, mayor of Oakland, California, one of America's most diverse and progressive cities and home to three previous RBA winners.
---
Course Listing: URP 610 – Public Private Partnerships: Financing Equitable Development / Fall Semester 2018
Location: Taubman College of Architecture and Urban Planning, 200 Bonisteel Drive, Room 2222, Ann Arbor, MI / Time: Wednesdays, 6 – 9 pm / Instructor: Marc Norman, Associate Professor of Practice, Urban Planning / marcdn@umich.edu / Office hours Wednesday 4-5:30pm or by appointment, Taubman room #3106.
This course examines the mechanisms through which real estate is developed in the United States. Through lectures, readings, a field trip, and guest speakers, the course analyzes the interaction of public agencies, developers, and designers in the initiation, financing, and design of developments. Case studies drawn from a variety of locations throughout the U.S. in addition to the region provide concrete demonstrations of how buildings emerge through negotiation among these various parties. By analyzing the structure of existing developments and generating their own development proposals, students will develop the skills to participate effectively within the complex ecology of powers and agendas governing real estate development, design, policy and finance. See the syllabus here.
The Course counts toward the Real Estate Certificate as part of either, "Real Estate Finance and Investment, or Design & Implementation.  It is a 3-credit course
---
PREFAB HOUSING AND THE FUTURE OF BUILDING: PRODUCT TO PROCESS
Marc Norman's contribution, "Industrialised Housing Building and Affordability" examines ways for innovation in the industry to link to affordable housing regimes. Buy the Book
---
Housing as Intervention: Architecture towards social equity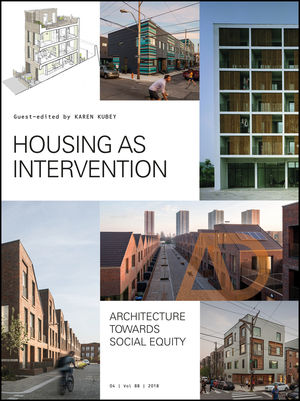 "Demapping Automotive Landscapes: Affordability as a Land Game," is Marc Norman's contribution to this collection of essays on innovation in housing design, policy and finance.
---
California College of the Arts Impact Awards
The annual IMPACT Grant Awards enables interdisciplinary teams of CCA students to develop and realize social innovations through their creative practice. Jurors included: Ashara Ekundayo , Christoph Steger, Jeremy Liu, Marc Norman, and Olivia Nava
---
Affordable Housing in the Age of Trump
Read this insightful article on the history and future of housing by Karrie Jacobs in Architect Magazine.
---
Sparking Conversation, A Tulane School of Architecture Colloquium

"Sparking Conversation about Community-Engaged Design." Invited by Tulane Architecture, four panelists who are specialists in community-empowering work participated in an interactive conversation about design in the public interest.
---
Friendship Court In Charlottesville Virginia Aims for Redevelopment in an Inclusive and Holistic Fashion
The Piedmont Housing Alliance has engaged a Design Team including: Stantec Urban Places Group, Liz Ogbu and Marc Norman to create a process and a plan for engaging residents and developing opportunities for preserving and enhancing an important site in the City of Charlottesville.  Links to press on the development process can be found here
---
JANUARY 6, 2016
Paved With Good Intentions – When Impact Design Goes Wrong
As part of Impact Design Hub's From Failure to Resolution series, leading practitioners in the world of impact design were asked to share a few choice cautionary tales and epic blunders from their own experience in the field.
---
Impact Design Hub asks about the future of education in a new feature series.  The question? What is the future of impact design education? Or, more specifically, what will the education of impact designers look like ten years from now, in the year 2025 … Click here to see the responses and add to the discussion.
---
Designing Affordability in the Press
Designing Affordability examines the ways in which architects, engineers, planners, policy makers and ordinary citizens are creating innovative ways to reduce the cost of housing, increase opportunity, rethink the way we live and show new ways to build and maintain structures. Taking on various elements necessary for the production of housing, developers, individuals, governments and architects are designing affordability and creating models for addressing the crisis and creating new opportunities for us all.
The exhibition has been covered widely in articles available below:
"Right about now, the world's best architects should be elbowing each other out of the way in a rush to New York." By Justin Davidson
"There is a big difference between affordable housing and housing that is affordable" By Margaret Rhodes
"You can only build so many units given land available and government subsidies. The architects can come in and think about how to lower construction costs and rethink the way we live." By Jessica Leber
The Center for Architecture's "Designing Affordability" opens many more areas for engagement between architecture and activism.  By A.J.P. Artemel
"It is sobering to think that a favela might offer a model for New York, but, given the city's galloping wealth inequality, it might also prove to be prescient." Full review here
See My Latest Article in the Journal of Urban History
---
Getting Out of a Spot
Deployed Technologies and Revamped Codes for a Thriving Twenty-First-Century City
Journal of Urban History March 2015vol. 41 no. 2 227-244
With the rise of the automobile and the easy access to suburbia, there was a shift in American cities from accommodating and welcoming density to accommodating cars. With cities hollowed out, but able to accept thousands of parkers, a vibrant, multifaceted world of handsome buildings, varied activities, and casual encounters was lost. Innovative thinking regarding technology took a backseat to mimicking the ascendant suburban landscape. At the dawn of the twenty-first century, automotive access remains codified in finance, codes, and traditional thinking, hampering our now revitalizing urban environments. Practitioners, policy makers, and architects can once again create cities at once unique, welcoming, and at the forefront of innovative thinking. New technologies, smart phone applications, and entrepreneurial initiative are changing urban life. By systematizing these disparate innovations, the necessary elements for vibrant streetscapes and better urban form can be created. Read full article here:
---
View 2014-15 Loeb Fellowship Talks
Meet the Loebs is an annual event to introduce the incoming Fellows to the Graduate School of Design and the wider Harvard Community.  Click here to see videos of each Fellow's Presentation.
---
 Design Futures Yearbook is Out!
The Design Futures Public Interest Design (PID) Student Leadership Forum is a five-day, interdisciplinary forum bringing together student leaders from across the country with practitioner- and university-faculty who represent some of the most important thought leadership in this emerging sub-discipline. We frame the conversation broadly, but try to engender leadership and skill-building for future leaders hoping to use design as a tool for social equity and positive change in underserved communities. The 2014 convening in New Orleans is covered in the yearbook which can be viewed here
---
NEW CITY BOOK SERIES
Currently available are the new City Series publications, a joint imprint of the Syracuse University School of Architecture and Princeton Architectural Press. The series explores architecture, landscape architecture, infrastructure, and planning in the redevelopment of the civic realm.
Click here for Marc Norman's Article, "Underwriting Icicles and Leveraging Sidewalks" in Formerly Urban.
Titles include:
From the Ground Up: Innovative Green Homes
Formerly Urban: Projecting Rust Belt Futures
New Public Works:  Architecture, Planning, and Politics
Modern American Housing:  High-Rise, Infill, Re-use
American City "X": Syracuse after the Master Plan
---
HIGHWAYS, HOUSES & HEDGES OR "TRAINS, TOWERS & TREES"
Marc Norman reviews architect Vishaan Chakrabarti's new book A COuntry of Cities: A manifesto for an urban America,which celebrates the Manhattanisation of US citoes as an economically rational antidote to the damaging health and environmental effects pf sprawl. Click here for full review.
---
Creative Economy Lecture Series
College of Visual and Performing Arts
UMASS Dartmouth
In a series focusing on Urban Renewal and Creative Economy in Massachusetts Gateway
Cities and Beyond, Marc Norman presents on his work in Syracuse, NY to create value behind the traditional economic system and uncover ways to finance rehabilitation and new construction. Using innovative financing techniques and advances in energy efficient technology Norman discusses new paradigms for low wealth communities.
---
Revitalizing the Legacy Cities of Upstate New York
---
FORMERLY URBAN: PROJECTING RUST BELT FUTURES
Edited by Julia Czerniak
Formerly Urban: Projecting Rustbelt Futures advances speculation about remaking cities in America's Rust Belt while underscoring the centrality of design an innovation in their revitalization. The essays collected here-by leading architects, landscape architects, planners, economists , experts in affordable housing- present the idea that the best work in the challenged context of the Rust Belt arise from the intersection of design, policy, and finance. The authors believe that despite economic, demographic, and physical decline, these shrinking cities are not necessarily dying. On the contrary, by utilizing new strategies to activate civic life rather than depending on outmoded models of growth based on the industrial past, formerly urban cities can pave the way to a brighter urban future.